Democratic Republic of Vietnam Fantasy Cover 2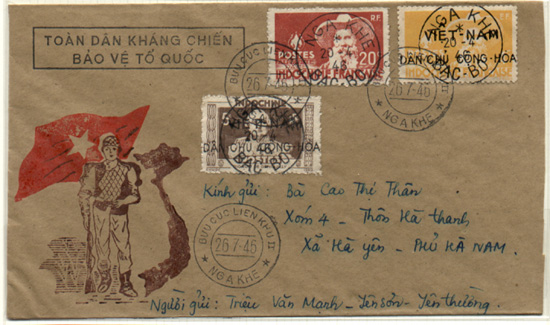 1. Cover known to have been made in 1975, shipped overseas

2. Overprint is fantasy (a few trials exist, never used). Nge Khe used French Indo-china stamps after liberation. This P.O. is a branch located on a French plantation with two postal workers to service the workers of the plantation. There was no need for all of the so-called stamps, and no ability to print overprints.

3. The cachet is taken from a 1950s piece of paper money.

4. The slogan is from a Dec 19, 1946 event

5. Cancel states Interzone 2 (Lien Khu II). Nge Khe was in Interzone 3 (but not until 1946), never Interzone 2.

There are other address and province errors.


< Home | < DRVN Fake and Fantasy Index

For more information about this project, or to contribute material and information, contact Richard Aspnes at rkaspnes@garuda.com.