1956 Double Overprint on Refugee issue of 1955



Genuine Overprints. These have relatively clean strikes, the thickness of the lines is constant, and the ends of the lines have relatively square corners.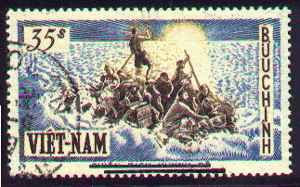 Fake Overprint. The lower overprint bar appears to be unevenly applied; the right side of the overprint is progressively thicker towards the end; and the left end is more rounded than the genuine overprints. Other fakes may show different characteristics. This stamp was obtained from a dealer as a fake.

< Home | < Republic of Vietnam Fakes Index

For more information about this project, or to contribute material and information, contact Richard Aspnes at rkaspnes@garuda.com.