Republic of Vietnam Fakes
This section deals with fake Republic of Vietnam material. This information is in preliminary form and will change. Information may not be entirely accurate or complete at this time as this is an ongoing research project.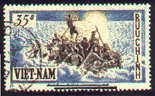 Links:

1955 Refugees on Raft Issue, Double Overprint >

Fake First Day Covers >




< Home

For more information about this project, or to contribute material and information, contact Richard Aspnes at rkaspnes@garuda.com.