French Indo-china Fakes and Fantasies
This section deals with fake and fantasy material from French Indo-china. This information is in preliminary form and will change. Information may not be entirely accurate or complete at this time as this is an ongoing research project.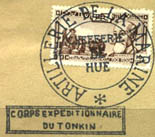 Links:

Fantasy "CORPS EXPEDITIONNAIRE DU TONKIN" Cancels



< Home

For more information about this project, or to contribute material and information, contact Richard Aspnes at rkaspnes@garuda.com.